Eurail One Country Pass
Explore 1 European country while enjoying the convenience of a rail pass
Days
Hours
Minutes
Seconds
The Eurail One Country Pass is the best choice if you want to spend your vacation experiencing 1 European country. Choose from popular countries like Italy and Spain and use regional and high-speed trains to move from one beautiful city center to the next with our One Country Pass.
Our best-sellers:
Germany
Looking to travel by train in Germany? Visit our dedicated German Rail Pass website, and find the right Pass for you! 
Travel on Germany's fast and reliable rail network

Includes popular cities outside of Germany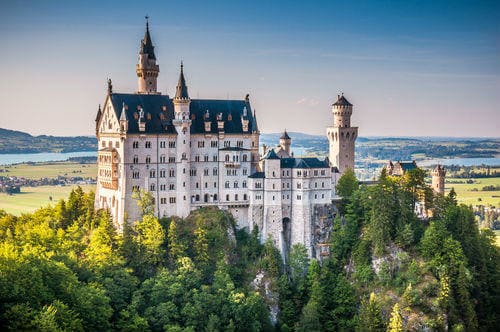 Reservations
For some trains, like night trains and high-speed trains (for example for example the Caledonian Sleeper, Alfa Pendular and TGV), it's mandatory to reserve a seat. These reservations are not included in your Eurail Pass. You can buy them through our Reservation Self Service for 95% of the trains in Europe. 
Try and book your seats as far in advance as possible, for most trains you can do this up to 3 months in advance. This is especially recommended if you are taking popular trains, are traveling in a bigger group or are traveling in high-season (May to September). 
It's also possible to avoid trains with seat reservations all together, by traveling by regional train. Regional trains may be slower, but they're a great way to discover smaller towns and villages. 
Each pass includes
✔  Up to 8 flexible days of travel*
✔  Use them within 1 month
✔  Take multiple trains each day
✔  Discounts on ferries, hotels, city cards and more
*Our Greek Islands Passes only offer 5 or 6 trips
Why choose a one country pass?
Travel to 100s of destinations in a country of your choice

Enjoy a convenient, worry-free way to travel

Discover famous cities and peaceful villages

Connect with locals and explore at your own pace
Why order at Eurail.com?
✔  Official Eurail store
✔  We speak your language
✔  Passionate about rail travel
✔  Experts in rail passes and train reservations
Top Tip! We've combined some European regions to form 2 special Eurail One Country Passes. It's like when your favorite bands come together to form a musical supergroup!

Choose a Eurail One Country Pass for a region below, and you'll be able to explore more fabulous destinations without spending more on travel. Awesome, right?


Benelux = Belgium, the Netherlands, and Luxembourg

Scandinavia = Denmark, Finland, Norway, and Sweden

Currently, there are no Eurail One Country Passes for Bosnia, Montenegro, Serbia, Switzerland, and Turkey.
If you're looking for a single rail pass for Germany, we've got something great for you: the German Rail Pass.
Plan your trip
Start planning your route around Europe with our handy tools:
Ordering your Eurail Pass
Get more information to help you order your Eurail Pass:
Trains in Europe
Europe's extensive rail network connects world-famous capitals to charming off-the-beaten-track towns. Choose the type of train that best fits your travel plans – regional, high-speed, scenic, or night train.

Find out about Europe's trains
Pass benefits
Get the most out of your Eurail Pass by taking advantage of extra pass benefits. A range of discounts and special offers are available in the countries in which your pass is valid.

Read more about Pass benefits
What is Eurail?
Eurail is your key to discovering Europe. Hop and off many of Europe's trains by simply showing your Eurail Pass. Sit back, relax and enjoy the spectacular views as you move from one top destination to the next on board Europe's trains. Arrive in the city center ready to uncover rich history, thriving culture and diverse cuisine.

What is Eurail?